3 Group Utama Corak Carta
Reversal Chart Patterns
Continuation Chart Patterns
Bilateral Chart Patterns

Mari kita lihat corak carta yang baru kita ketahui dan mengkategorikannya mengikut isyarat yang mereka berikan.
Corak Carta Pembalikan/Reversal
Corak pembalikan/reversal  adalah pembentukan carta yang memberi isyarat bahawa trend yang berterusan akan mengubah arah.
Sekiranya corak carta pemLbalikan wujud semasa aliran meningkat, ia menunjukkan bahawa trend akan terbalik dan harga akan turun tidak lama lagi.
Sebaliknya, jika corak carta pembalikan dilihat semasa aliran menurun, ia menunjukkan bahawa harga akan bergerak ke atas kemudian.
Terdapat enam pola carta yang memberi isyarat pembalikan. Bolehkah anda menamakan semua enam daripadanya?
Double Top
Double Bottom
Head and Shoulders
Inverse Head and Shoulders
Rising Wedge
Falling Wedge
Lihat rajah dibawah;
Untuk berdagang corak carta ini, hanya letakkan pesanan di luar garis leher dan ke arah trend baru.
Kemudian letakkan sasaran yang hampir sama dengan ketinggian pembentukan pattern.
Sebagai contoh, jika anda melihat bahagian bawah berganda, letakkan pesanan LONG/BUY di bahagian atas garis leher pembentukan dan pergi ke sasaran yang sama setinggi jarak dari bahagian bawah ke garis leher.
Untuk kepentingan pengurusan risiko yang betul, jangan lupa untuk meletakkan STOP LOSS anda!
Kehilangan hentian yang munasabah boleh ditetapkan di tengah-tengah pembentukan carta.
Sebagai contoh, anda boleh mengukur jarak bahagian bawah ganda dari garis leher, membahagikannya dengan dua, dan menggunakannya sebagai saiz STOP LOSS anda.
Corak Carta Penerusan/Continuation
Corak carta berterusan/Continuation adalah pembentukan carta yang menandakan bahawa trend berterusan akan diteruskan.
Biasanya, ini juga dikenali sebagai corak penyatuan kerana mereka menunjukkan bagaimana pembeli atau penjual mengambil rehat cepat sebelum bergerak lebih jauh ke arah yang sama seperti trend sebelumnya.
Beberapa corak carta kesinambungan, iaitu :
baji / wedges
segi empat / rectangles dan
penanda / pennants
Perhatikan bahawa baji boleh dipertimbangkan sama ada corak pembalikan atau kesinambungan bergantung kepada trend yang mereka bentuk.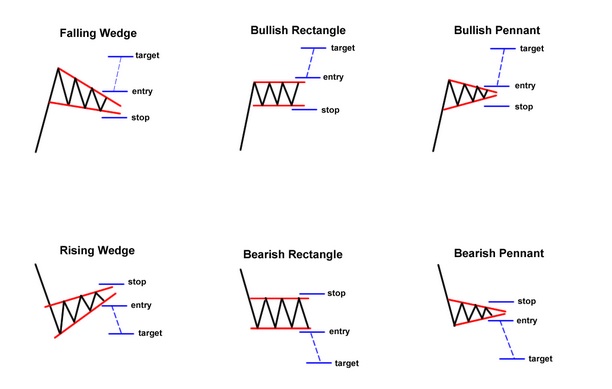 Untuk berdagang corak-corak ini, hanya letakkan pesanan di atas atau di bawah pembentukan (mengikuti arah trend yang berterusan, tentu saja).
Kemudian pergi untuk sasaran yang sekurang-kurangnya saiz corak carta untuk baji dan segi empat tepat.
Untuk penanda, anda boleh menyasar lebih tinggi dan mensasarkan ketinggian tiang penanda.
Untuk corak penerusan, perhentian biasanya diletakkan di atas atau di bawah pembentukan carta sebenar.
Sebagai contoh, apabila berdagang segi empat tepat yang menurun, letakkan berhenti beberapa pips di atas bahagian atas atau rintangan segiempat tepat.
Corak Carta Bilateral
Corak carta dua hala sedikit lebih rumit kerana isyarat ini, harga boleh bergerak dalam dua hala.
Inilah di mana pembentukan segitiga bahawa harga boleh bergerak sama ada ke bahagian atas atau bawah dengan segitiga?
Untuk berdagang corak carta ini, anda harus mempertimbangkan kedua-dua senario (breakout terbalik atau downside) dan meletakkan satu pesanan di atas pembentukan dan satu lagi di bahagian bawah pembentukan.
Jika satu pesanan dicetuskan, anda boleh membatalkan yang lain. Sama ada, anda akan menjadi sebahagian daripada tindakan itu.
Gandakan kemungkinan, gandakan keseronokan!
Satu-satunya masalah ialah anda menghadapi isyarat palsu jika anda menetapkan pesanan kemasukan terlalu dekat dengan bahagian atas atau bawah pembentukannya.
Jadi berhati-hatilah dan jangan lupa untuk meletakkan stop loss / perhentian anda juga!