Sokongan dan rintangan terletak pada inti analisis teknikal. Terdapat banyak bentuk sokongan dan rintangan, dan tidak semua orang akan bersetuju tentang cara melihat tahap penting atau bagaimana menggunakannya. Tetapi apa yang kita bincangkan hari ini harus membantu memulakan asas bagi peniaga baru sambil juga memberi penerangan mungkin beberapa sudut baru untuk peniaga yang lebih berpengalaman.
Support and resistance lies at the heart of technical analysis. There are numerous forms of support and resistance, and not everyone will agree on how to spot important levels or even on how to use them. But what we discussed today should help start a foundation for new traders while also bringing to light perhaps some new angles for more experienced traders.
Sama ada anda peniaga baru yang membina asas atau pedagang yang berpengalaman berjuang (berlaku yang terbaik), berikut adalah 4 idea untuk membantu anda Membangun Keyakinan dalam Berdagang
Whether you are a new trader building a foundation or an experienced trader struggling (happens to the best), here are 4 ideas to help you Build Confidence in Trading

Sokongan dan rintangan harga, garis arah aliran, dan cerun
Price, trend-line, and slope support and resistance
Dua jenis utama yang saya gunakan adalah tahap harga dan garis trend / cerun. Tahap harga bukanlah tahap yang sebenarnya, melainkan zon di mana dengan alasan terdapat sejumlah titik belokan, atau titik sentuhan. Semakin tinggi swing tinggi dan / atau rendah, semakin baik. Berikut adalah contoh sokongan yang baik yang menjadi lebih penting dengan setiap sentuhan.
The main two types I use are price levels and trend/slope lines. Price levels are not really levels per se, but rather zones where within reason there are a number of inflection points, or touch points. The more swing highs and/or lows involved the better. Below is a good example of support which become more important with each touch.
Contoh Sokongan Menjadi semakin penting
Example of Support Becoming Increasingly important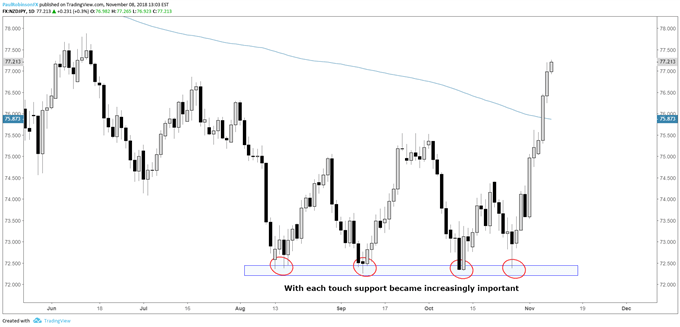 Garis arah adalah konsep yang mudah tetapi praktiknya sukar. Contohnya, dengan garis aliran menaik; Adakah anda menghubungkan bahagian bawah candlestick (dengan andaian anda menggunakan candlesticks) atau harga penutupan, atau beberapa variasi dari kedua-duanya di mana anda boleh, sekali lagi, dengan alasan menghubungkan bilangan titik perubahan yang paling banyak? Saya mengambil pendekatan yang terakhir, menghubungkan seberapa banyak perkara yang wajar.
Trend-lines are simple in concept but can be tricky in practice. For example, with an uptrend line; Do you connect the lows of the candlesticks (assuming you use candlesticks) or the closing prices, or some variation of the two where you can, again, within reason connect the most number of turning points? I take the latter most approach, connecting as many points within reason.
Juga, perhatikan apakah ada selari dengan garis arah aliran yang bersangkutan yang menghubungkan sisi arah aliran yang lain; jika ada, maka ia akan memperkuat garis arah aliran (lihat di bawah). Anda mungkin mengambil pendekatan yang berbeza, yang baik-baik saja, tetapi kuncinya adalah – apa sahaja yang anda lakukan, konsisten …
Also, look to see if there is a parallel to the trend-line in question which connects the other side of the trend; if there is one, then it strengthens the trend-line (see below). You may take a different approach, which is totally fine, but the key is – whatever you do, be consistent…
Garis arah aliran (tanpa / selari) & pembalikan kunci 200 hari tanpa kunci
Trend-line(w/parallel) & 200-day w/key reversal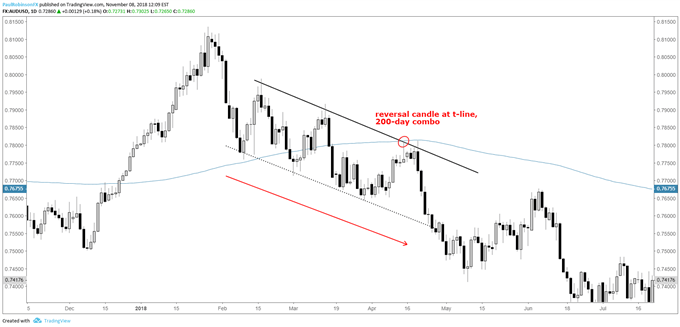 Garis lereng seperti garis arah aliran, tetapi sebahagian besarnya adalah 'tersembunyi' kerana mereka dapat melewati tengah-tengah banyak tindakan harga. Mengenal pasti cerun memerlukan sedikit masa untuk belajar. Kuncinya di sini adalah memastikan bahawa anda mempunyai beberapa titik penyimpangan yang menghubungkan, dengan setiap sambungan meningkatkan kesahan dan kepentingan cerun.

Slope lines are like trend-lines, but for the most part these are sort of 'hidden' as they can pass right through the middle of a lot of price action. Identifying slopes takes some time to learn. The key here is to make sure that you have several inflection points connecting, with each connection increasing the validity and importance of the slope.
Lereng sebagai Sokongan dan Rintangan
Slopes as Support and Resistance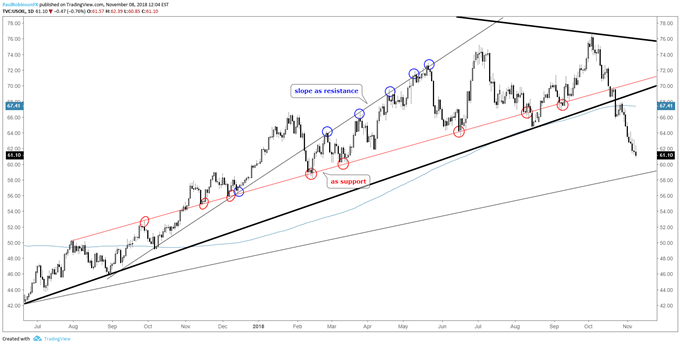 Kami memahami kesukaran berniaga, itulah sebabnya kami mengumpulkan pelbagai panduan yang dirancang untuk membantu pedagang dari semua peringkat pengalaman.
We understand the difficulties of trading, which is why we've put together a variety of guides designed to help traders of all experience levels.
Purata bergerak, Fibonacci dan lain-lain…
Moving averages, Fibonacci, and others…
Berkenaan dengan purata bergerak, saya hanya menggunakan 200-hari kerana seberapa banyak yang ditonton. Saya sering ditanya mengapa saya tidak menggunakan tahap Fibonacci. Ini bukan kerana saya tidak percaya tidak ada kesahan, kerana saya telah melihat terlalu banyak peniaga berjaya menggunakannya untuk menghapuskannya. Saya mendapati bahawa sering kali tahap retracement yang sama (iaitu 38.2%, 50%, 62.8%, dan lain-lain) yang dilihat oleh seorang peniaga juga akan sesuai dengan bidang sokongan atau rintangan yang saya dapati menggunakan harga atau trend / kemerosotan analisis. Terdapat satu bentuk sokongan / rintangan yang tidak dapat saya hadapi, dan itu adalah 'titik pangsi', yang diperoleh oleh data jarak pada jangka masa yang diperhatikan. Alasannya, bukan peminat matematik Gauss di pasaran, dan selain itu nampaknya lebih merupakan ukuran turun naik daripada sokongan dan rintangan sebenar.
With regard to moving averages, I only use the 200-day due to how widely-watched it is. I'm often asked why I don't use Fibonacci levels. It's not because I don't believe there isn't validity, as I've seen too many traders use them successfully to write them off. It's that I have found that often times the same retracement levels (i.e. 38.2%, 50%, 62.8%, etc.) that one trader is looking at will also align with the areas of support or resistance I find using price or trend/slope analysis. There is one form of support/resistance which I can't get on board with, though, and that is 'pivot points', derived by range data on the observed time-frame. Reason being, not a fan of Gaussian mathematics in the marketplace, and besides these seem to be more of a measure of volatility rather than actual support and resistance.
Beberapa perkara yang perlu diingat
Some things to keep in mind
Berikut adalah beberapa perkara penting yang kami bincangkan penting untuk diingat semasa mengenal pasti sokongan dan rintangan. Cari zon berbanding tahap harga yang tepat (pasaran biasanya tidak begitu tepat). Bilangan titik infleksi penting; semakin banyak yang lebih penting adalah kawasan yang dimaksudkan. Cari kawasan pertemuan antara lebih dari satu sudut sokongan dan rintangan. Sekiranya sokongan terputus maka ia berpotensi menjadi kawasan perlawanan baru, dan sebaliknya. Menggunakan analisis kandil boleh menjadi kaedah yang luar biasa untuk mengesahkan atau membatalkan tahap pada carta anda.
Here are some of the key points we discussed as important to remember when identifying support and resistance. Look for zones versus precise prices levels (markets aren't generally very precise). The number of inflection points matters; the more there are the more important the area in question is. Seek out areas of confluence between more than one angle of support and resistance. If support is broken then it potentially becomes a new area of resistance, and vice versa. Using candlestick analysis can be a tremendous way to validate or invalidate the levels on your chart.