Titik Perbincangan Sokongan dan Rintangan:
Support and Resistance Talking Points:
Sokongan dan Rintangan dapat membantu membimbing peniaga dengan kemasukan dan jalan keluar.
Support and Resistance can help guide traders with entries and exits.
Pedagang baru sering menjadikannya lebih sukar daripada mengenal pasti tahap ini.
New traders often make it more difficult than it really is to identify these levels.
Ketahui cara menggunakan tahap Psikologi, Ayunan tinggi / rendah, dan Pivot Point.
Learn how to use Psychological levels , Swing highs/lows, and Pivot Points.
"Sokongan dan rintangan" adalah jargon biasa untuk kawasan di carta di mana harga sukar untuk menembus. Tahap sokongan cenderung menghentikan harga dari jatuh di bawah titik tertentu dan tahap rintangan bertindak seperti siling harga yang harganya tidak dapat menembusi di atas. Mengetahui di mana tahap-tahap ini menjadikannya lebih mudah untuk memutuskan kapan membuka dan menutup perdagangan, tetapi bagaimana kita dapat mengetahui harga ini sebagai permulaan? Hari ini kita akan membahas 3 cara mudah untuk mengenal pasti sokongan dan rintangan dalam Forex.
"Support and resistance" is common jargon for areas on the chart where price has a difficult time breaking through. Support levels tend to stop price from falling below a specific point and resistance levels act like a price ceiling that price cannot break above. Knowing where these levels are make it much easier to decide when to open and close trades, but how can we locate these prices to begin with? Today we will cover 3 simple ways to identify support and resistance in Forex.
Tahap Psikologi
Psychological Levels
Selalunya disebut tahap "psikologi", tahap psikologi berlaku apabila harga berakhir dengan beberapa 0. Sudah menjadi fitrah manusia untuk menarik nombor bulat ketika membincangkan topik yang melibatkan nombor, termasuk Forex.
Often called "psych" levels, psychological levels occur when price ends with multiple 0's. It's human nature to gravitate towards round numbers when discussing any topic that involves numbers, Forex included.
Contohnya, apabila peniaga bercakap tentang apa yang mereka fikir Euro akan bernilai pada masa akan datang, mereka mungkin tidak akan memberikan jawapan 1.4278 atau 1.3044. Mereka lebih cenderung membundarkan harganya menjadi sesuatu yang lebih sederhana, seperti 1.4300 atau 1.3000. Perkara yang sama berlaku apabila peniaga Forex membuat pesanan mereka. Kita sering akan melihat sekumpulan pesanan di sekitar jumlah keseluruhan ini, yang mewujudkan tahap harga yang dapat mempengaruhi bagaimana harga berkelakuan. Itulah yang kami mahukan untuk tahap sokongan dan rintangan kami.
For example, when traders talk about what they think the Euro will be worth in the future, they probably won't give an answer of 1.4278 or 1.3044. They are much more likely to round off the price to something simpler, like 1.4300 or 1.3000. The same thing happens when Forex traders place their orders. We will often see clusters of orders around these whole numbers, which creates price levels that can affect how price behaves. That's exactly what we want for our support and resistance levels.
Tahap psikologi yang paling biasa melibatkan harga yang mempunyai dua angka nol pada akhir (tidak termasuk 1/10 pip), seperti 1.6400 atau 102.00. Lebih kuat daripada tahap psikologi yang berakhir dengan tiga angka nol, seperti 1.3000 atau 120.00. Meninggalkan tahap psikologi yang paling kuat dari semua, empat sifar pada akhir, 1.0000 atau 100.00. Carta di bawah mempunyai empat tahap yang dilukis pada tahap psikologi. Kami dapat melihat dengan jelas kesannya terhadap tindakan harga.
The most common psych levels involve price having two zeros at the end (not including the 1/10th of a pip), such as 1.6400 or 102.00. More powerful than that would be psych levels ending in three zeros, such as 1.3000 or 120.00. Leaving the most powerful psych levels of all, four zeros at the end, 1.0000 or 100.00. The chart below has four levels drawn at psychological levels. We can clearly see their effect on price action.
Belajar Forex: Tahap Psikologi
Learn Forex: Psychological Levels
USD / JPY membentuk tahap sokongan dan rintangan psikologi pada angka bulat.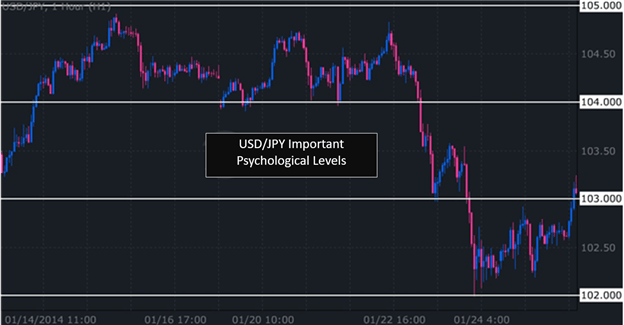 Ayunan Tinggi & Rendah
Swing Highs & Lows
Cara lain yang baik untuk mencari tahap sokongan dan rintangan adalah dengan menandakan tahap pada masa lalu di mana harga sukar menembusi. Ketika harga bergerak naik dan turun, setiap tingkat harga yang melambung dapat menjadi level di masa depan yang harga akan naik lagi. Ini adalah kaedah intensif secara manual dan memerlukan masa untuk memanfaatkan semua pasangan mata wang yang kami jual, tetapi dapat membuahkan hasil dalam jangka panjang.
Another great way to find support and resistance levels is to mark levels in the past where price had a difficult time breaking through. As price moves up and down, each level that price has bounced off of could be a level in the future that price bounces off of again. This is a manually intensive method and takes time to draw on all the currency pairs that we trade, but can pay off in the long run.
Belajar Forex: Swing High & Low Bertindak Sebagai Sokongan & Rintangan
Learn Forex: Swing Highs & Lows Acting As Support & Resistance
Pasangan mata wang boleh terus meningkat dari tahap sokongan dan rintangan dari masa lalu.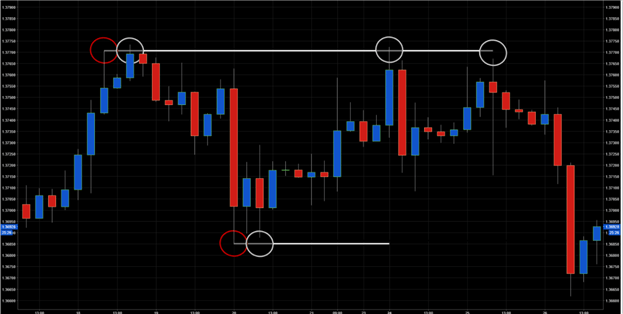 Seperti carta EUR / USD yang ditunjukkan di atas, tahap ditarik ketika harga mencapai tinggi atau rendah baru (bulatan merah). Kemudian ketika harga mendekati tahap ini lagi, mereka melambung pada tahap yang sama (lingkaran putih). Kesannya tidak akan selalu bersih, tetapi ia sering berlaku. Ini adalah kaedah yang sering digunakan dalam Range Trading. Kita boleh membeli dengan sokongan dengan stop loss di bawah dan kita boleh menjual pada tahap resisten dengan stop loss di atas.
As the EUR/USD chart shows above, a level was drawn when price reached a new high or low (red circle). Later when price approached these levels again, they bounced off the same levels (white circles). The effect will not always be this clean, but it does occur fairly often. This is a method used quite often in Range Trading. We can buy at support with our stop loss below and we can sell at resistance with our stop loss above.
Pivot Points
Boleh dikatakan tahap sokongan dan rintangan termudah untuk ditambahkan pada carta kami, titik pangsi adalah penunjuk terbina dalam pada banyak platform yang secara automatik akan menarik tahap utama tanpa usaha sama sekali dari pihak kami. Titik pangsi dibuat berdasarkan harga Tinggi, Rendah dan Tutup pada tempoh sebelumnya, dengan ukuran tempoh yang paling biasa adalah tempoh Harian. Kami boleh menggunakan tahap ini sama seperti tahap sokongan dan rintangan berpotensi lain pada carta kami.
Arguably the easiest support and resistance levels to add to our charts, pivot points are a built-in indicator on many platforms that will automatically draw key levels without any effort on our part at all. Pivot points are created by the previous period's High, Low and Close prices, with the most common period size being the Daily period. We can use these levels just like any other potential support and resistance levels on our charts.
Belajar Forex: Pivot Points
Learn Forex: Pivot Points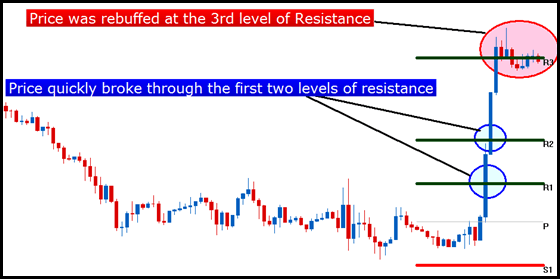 Lines O' Plenty
Sokongan dan tentangan tidak semestinya membingungkan. Kami boleh mencampurkan dan memadankan mana-mana kaedah di atas dan membuat tahap harga yang sihat yang dapat kami jual. Seperti biasa, latihan menjadi sempurna. Oleh itu, pastikan untuk menguji kaedah ini sendiri pada akaun demo masa nyata.
Support and resistance doesn't have to be confusing. We can mix and match any of the methods above and create a healthy amount of price levels that we can trade. As always, practice makes perfect. So make sure to test out these methods yourself on a real time demo account.