Introduction
Engulfing adalah salah satu corak candlestick di pasaran forex yang menyediakan cara yang berguna bagi trader untuk menjangkakan kemungkinan pembalikan trend. Terdapat dua jenis corak engulfing – Bullish Engulfing dan Bearish Engulfing. Kekurangan atau kenaikan candlestick sepenuhnya berdasarkan kedudukannya dalam kaitannya dengan trend aset asas yang ada.
Engulfing is one of those candlestick patterns in the forex market that provides a useful way for traders to anticipate a possible reversal in the trend. There are two types of engulfing patterns – Bullish Engulfing and Bearish Engulfing. The engulfing candle's bearish or bullishness is wholly based on its position in relation to the existing trend of an underlying asset.
Understanding The Types
A bullish engulfing pattern boleh muncul di mana sahaja dalam trend. Tetapi ia lebih penting sekiranya ia muncul dalam aliran menurun. Pola ini menunjukkan lonjakan tekanan beli kerana menunjukkan bahawa lebih banyak pembeli memasuki pasar, mendorong kenaikan harga. Corak ini terdiri daripada candlestick merah bearish dan candlestick kenaikkan kedua menyelubungi badan candlestick merah sebelumnya.
A bullish engulfing pattern can appear anywhere in the trend. But it holds more significance if it appears in a downtrend. This pattern indicates the surge in buying pressure as it shows that more buyers are entering the market, driving the price action further up. This pattern consists of a bearish red candle and the second bullish candle completely engulfs the body of the previous red candle.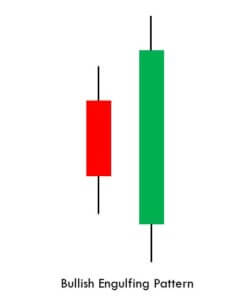 Tafsiran – Sentiasa mencari corak kenaikan harga dalam aliran menurun yang jelas. Untuk memasuki perdagangan, peniaga mesti menggabungkan corak ini dengan tahap rintangan sokongan atau dengan petunjuk teknikal yang boleh dipercayai untuk pengesahan tambahan pembalikan trend.
Interpretation – Always look for the bullish engulfing pattern in a clear downtrend. For entering a trade, traders must combine this pattern with support resistance levels or with any reliable technical indicator for additional confirmation of the trend reversal.
Bearish engulfing pattern adalah kebalikan dari corak engulfing bullish. Daripada muncul di bahagian bawah trend, corak ini muncul di bahagian atas trend. Kita boleh mengatakan bahawa isyarat yang lebih tepat dan boleh dipercayai dapat dihasilkan apabila corak ini muncul di bahagian atas aliran menaik. Corak menelan bearish terdiri daripada dua candlestick. Yang pertama adalah candlestick hijau. Seterusnya, ini diliputi oleh candlestick merah berikutnya. Corak ini mencetuskan pembalikan dalam trend yang ada. Ini menunjukkan bahawa pembeli tidak lagi dapat mendorong harga lebih tinggi, dan bears menguasai pasar.
Bearish engulfing pattern is just the opposite of the bullish engulfing pattern. Instead of appearing at the bottom of the trend, this pattern appears at the top of the trend. We can say that more accurate and reliable signals can be generated when this pattern appears at the top of an uptrend. The bearish engulfing pattern consists of two candles. The first one being the green candle. This one is, next, engulfed by the subsequent red candle. The pattern triggers a reversal in an existing trend. It indicates the buyers are no longer able to push the price higher, and the bears took control of the market.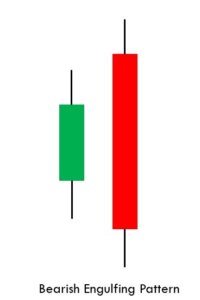 Tafsiran – Sentiasa mencari corak engulfing menurun dalam aliran menaik yang jelas. candle merah kedua mesti menelan candle hijau pada akhirnya, menunjukkan bahawa bear menumpuk ke pasaran dengan agresif. Untuk memasuki perdagangan, peniaga mesti mencari pengesahan tambahan, seperti tahap rintangan sokongan atau dengan menggunakan petunjuk teknikal yang boleh dipercayai.
Interpretation – Always look for the bearish engulfing pattern in a clear uptrend. The second red candle must engulf the green candle ultimately, showing that bears are piling into the market aggressively. For entering a trade, traders must look for additional confirmation, such as support resistance levels or by using any reliable technical indicator.
Pairing the Engulfing pattern with Support/Resistance
Setiap peniaga mempunyai cara yang unik untuk memperdagangkan pasaran. Sebilangan peniaga suka mengikuti tren sementara sebilangan peniaga hanya memperdagangkan pergerakan arah aliran. Dalam strategi ini, kami telah memasangkan pola engulfing dengan sokongan & rintangan untuk menunjukkan kepada anda bagaimana memperdagangkan pembalikan dengan betul.
Every trader has a unique way of trading the market. Some traders like to go with the trend while some traders only trade counter-trend moves. In this strategy, we have paired the engulfing pattern with support & resistance to show you how to trade the reversals correctly.
Confirm the downtrend first on your trading timeframe
Langkah pertama strategi perdagangan ini adalah untuk mengesahkan trend aset pendasar. Mari tukar corak kenaikan harga. Oleh itu, seperti yang telah dibincangkan, kita mesti mencari aliran menurun pada carta harga. Seperti yang anda lihat di bawah, pasangan mata wang NZD / USD berada dalam aliran menurun keseluruhan.
The first step of this trading strategy is to confirm the trend of any underlying asset. Let's trade the bullish engulfing pattern. So as discussed, we should be finding the downtrend on the price chart. As you can see in the below NZD/USD currency pair was in an overall downtrend.

Find out the Bullish Engulfing pattern on your trading timeframe
Kunci untuk perdagangan yang berjaya adalah mengikuti semua peraturan strategi perdagangan. Corak engulfing dapat dilihat di seluruh carta harga, tetapi jelas, kita tidak dapat trade semua corak ini. Kita seharusnya hanya memperdagangkan corak engulfing yang muncul di kawasan sokongan utama.
The key to successful trading is to follow all the rules of the trading strategy. The engulfing pattern can be seen all over the price chart, but obviously, we can't trade all of these patterns. We should be trading only those engulfing patterns that appear in the major support area.
Dalam gambar di bawah, NZD / USD berada dalam aliran menurun keseluruhan, dan tindakan harga menghormati kawasan sokongan utama. Market mencetak corak engulfing di zon sokongan, yang menunjukkan bahawa pembeli cenderung memimpin harga.
In the below image, the NZD/USD was in an overall downtrend, and price action respects the major support area. Market prints the engulfing pattern at the support zone, which indicates that the buyers are more likely to lead the price.
Entry, Take Profit & Stop loss
Masuk ke dalam perdagangan tepat setelah anda melihat corak engulfing kenaikan harga di kawasan S&R. Sasaran untung bergantung pada gaya perdagangan anda. Sekiranya anda adalah swing trader atau full-time trader, pegang kedudukan anda untuk sasaran yang lebih luas. Sekiranya anda seorang peniaga intraday, tutup kedudukan anda di kawasan rintangan terdekat.
Enter the trade right after you see the bullish engulfing pattern at the S&R area. Take-profit targets depend on your trading style. If you are a swing trader or full-time trader, hold your positions for more extended targets. If you are an intraday trader, close your position at the nearest resistance area.
Anda juga boleh menempah sebahagian keuntungan di kawasan rintangan yang ketara dan menutup kedudukan penuh anda ketika pasaran bergerak corak penurunan harga. Dalam strategi ini, kami melakukan pembelian di zon sokongan yang signifikan, jadi adalah amalan yang baik untuk menghentikan kerugian di bawah kawasan sokongan.
You can also book partial profits at a significant resistance area and close your full position when the market prints the bearish engulfing pattern. In this strategy, we took the buy at a significant support zone, so it's a healthy practice to put stop loss just below the support area.
Lihat gambar di bawah; anda dapat melihat bahawa tindakan harga berada di atas kawasan rintangan yang ketara. Tetapi kami memastikan untuk menutup kedudukan kami di kawasan rintangan kerana kami tidak mahu wang kami disekat dalam satu perdagangan untuk masa yang lama. Secara keseluruhannya adalah perdagangan 4R yang baik.
Look at the below image; you can see that price action goes above the significant resistance area. But we made sure to close our positions at the resistance area as we don't want our money to be blocked in a single trade for a long time. Overall it was good 4R trade.
Bottom Line
Terdapat banyak cara yang berbeza untuk melakukan perdagangan untuk menggunakan corak engulfing. Secara statistik, corak engulfing berfungsi lebih baik apabila diperdagangkan di bahagian bawah atau atas trend. Oleh itu, pastikan untuk memeriksa lokasi mereka sebelum melakukan perdagangan. Salah satu cara lain untuk berdagang dengan Corak Engulfing adalah apabila digabungkan dengan Purata Pergerakan. Tetapi dengan cara itu, pastikan untuk menukar corak melanda di kawasan sokongan dan rintangan yang ketara. Beberapa peniaga menggunakan petunjuk yang boleh dipercayai seperti MACD untuk mengesahkan pembalikan trend dengan menggunakan tahap overbought dan oversold. Itu mengenai strategi corak Engulfing. Pastikan untuk mencari corak ini dan berniaga dalam aktiviti perdagangan anda yang akan datang. Beritahu kami jika anda mempunyai sebarang pertanyaan dalam komen di bawah. Ceria!
There are so many different ways to take trades to use the engulfing pattern. Statistically, the engulfing pattern works better when traded at the bottom or top of the trend. So make sure to check their location before placing the trades. One other possible way to trade am Engulfing Pattern is when it is combined with Moving Averages. But even that way, make sure to trade the engulfing pattern at the significant support and resistance areas. Some traders use reliable indicators like MACD to confirm the trend reversals by using the overbought and oversold levels. That's about the Engulfing pattern strategy. Make sure to find these patterns and trade them in your upcoming trading activities. Let us know if you have any questions in the comments below. Cheers!