What Is Supply And Demand?
Sebelum kita membincangkan perkara lain, kita harus menentukan apakah sebenarnya penawaran dan permintaan. Ringkasnya: permintaan adalah berapa banyak pembeli di pasar tertentu dan berapa banyak mereka bersedia membeli instrumen. Penawaran adalah berapa banyak penjual yang ada di pasaran dan berapa banyak mereka sanggup menjual instrumen. / Before we discuss anything else, we should define what supply and demand actually is. In short: demand is how many buyers there are in a given market and how much they are willing to buy an instrument. Supply is how many sellers there are in a market and how much they are willing to sell an instrument.
Penawaran dan permintaan adalah hubungan antara pembeli dan penjual yang digunakan sebagai ukuran untuk penentuan harga di pasar kewangan. Kekuatan penawaran dan permintaan berinteraksi untuk mempengaruhi harga keseimbangan antara pembeli dan penjual di mana kuantiti permintaan sama dengan kuantiti penawaran. / Supply and demand is the relationship between buyers and sellers that is used as a measure for price determination in financial markets. The forces of supply and demand interact to affect an equilibrium price between buyers and sellers whereby the quantity of demand equals the quantity of supply.

Hukum Penawaran dan Permintaan
'Penawaran' adalah jumlah yang ada, sementara 'permintaan' adalah jumlah yang diinginkan. Grafik di bawah menunjukkan aspek visual penawaran, permintaan dan keseimbangan masing-masing. / 'Supply' is purely the amount available, while 'demand' is the amount that is desired. The graphs below indicate the visual aspect of supply, demand and equilibrium respectively.
Bekalan: hubungan antara harga dan kuantiti / Supply: the relationship between price and quantity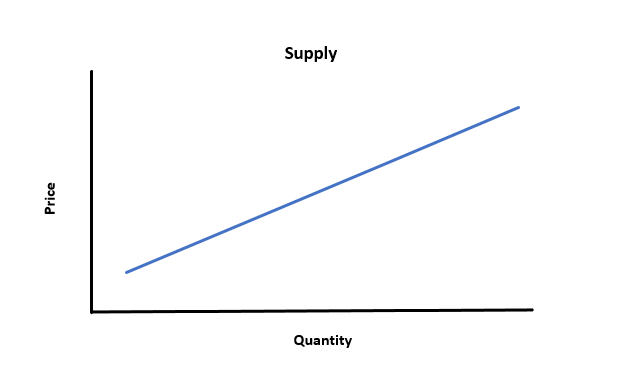 Demand: the relationship between price and quantity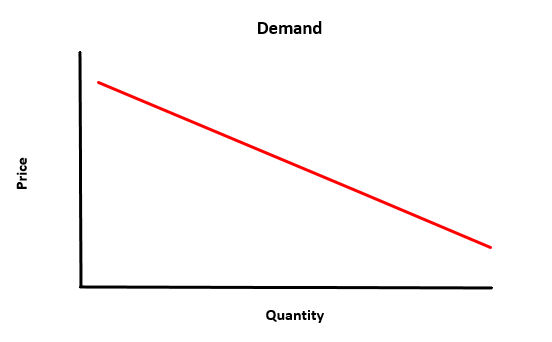 Keseimbangan: harga yang paling cekap di mana kuantiti yang diminta sama dengan kuantiti yang dibekalkan: / Equilibrium: the most efficient price at which quantity demanded equals the quantity supplied: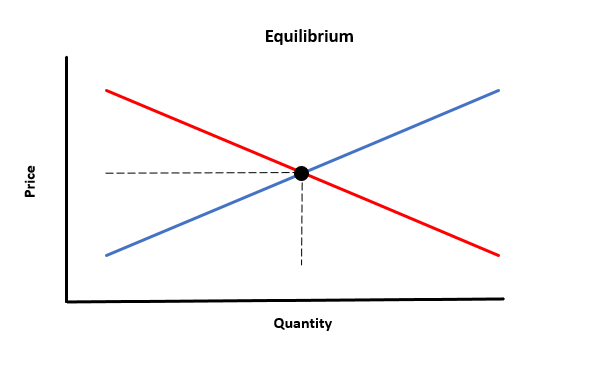 The Laws Of Supply And Demand
Bayangkan senario berikut: jika harga EURUSD meningkat, akan ada lebih banyak orang yang bersedia menjual kerana ia akan menjadikan mereka lebih banyak wang, bukan? Ini adalah undang-undang penawaran: semakin tinggi harganya, semakin tinggi kuantiti yang dibekalkan. / Imagine the following scenario: if the price of EURUSD increases, there will be more people willing to sell because it will make them more money, right? This is the law of supply: the higher the price, the higher the quantity that is supplied.
Sekarang, bayangkan senario dari sudut pandangan pembeli. Apabila sesuatu menjadi lebih murah, anda akan lebih berminat untuk membeli, bukan? Sebaliknya, jika harganya meningkat, anda akan semakin berminat untuk mendapatkannya. Ini adalah undang-undang permintaan: semakin tinggi harganya, semakin rendah kuantiti yang diminta.
Now, imagine the scenario from the point of view of the buyers. Whenever something becomes cheaper, you will be more interested in buying, right? On the other hand, if the price increases, you'll be less and less interested in getting it. This is the law of demand: the higher the price, the lower the quantity demanded.