3 Petua Untuk Dagangan Trendline
Garis arah aliran mungkin merupakan alat paling asas dalam kotak alat pedagang teknikal. Mereka mudah difahami dan dapat digunakan bersama dengan alat lain yang mungkin sudah anda gunakan. Secara definisi, garis arah adalah garis yang menghubungkan dua atau lebih rendah atau dua atau lebih tinggi, dengan garis yang diunjurkan ke masa depan. Sebaik-baiknya, peniaga melihat garis lanjutan ini dan berdagang pada harga yang bertindak balas di sekitarnya, sama ada berdagang dengan menaikkan trendline.
A trendline is probably the most basic tool in the technical trader's toolbox. They are easy to understand and can be used in combination with any other tools you might already be using. By definition, a trendline is a line connecting two or more lows or two or more highs, with the lines projected out into the future. Ideally, traders look at these extended lines and trade on prices reacting around them, either trading a bounce of the trendline.
Ringkasan Artikel: Trendlines adalah pokok bagi pedagang Forex teknikal yang dapat digunakan pada pasangan mata uang mana pun dan dalam jangka waktu tertentu. Ikuti 3 langkah mudah ini untuk melukis garis trend yang merupakan alat yang kuat untuk memasuki masa dan keluar dari perdagangan.
Article Summary:Trendlines are a staple for technical Forex traders that can be used on any currency pair and on any time frame. Follow these 3 easy steps to drawing trend lines which is a powerful tool to time entries and exits of a trade.
Jadi, apa yang dapat kita lakukan untuk memastikan garis arah aliran yang telah kita lukis adalah baik?
So, what can we do to make sure the trendlines that we've drawn are sound?

Petua # 1 – Sambungkan Swing Lows ke Swing Lows (atau Swing High to Swing Highs)
Tip #1 – Connect Swing Lows to Swing Lows (or Swing Highs to Swing Highs)
Kami ingin menarik garis yang menghubungkan dua (atau lebih) ayunan rendah atau dua (atau lebih) ayunan tinggi. Bagi mereka yang tidak biasa dengan istilah swing high / lows, kami bermaksud puncak dan lembah yang diciptakan dengan harga zig zagging. Sebaik sahaja kita menghubungkan puncak dengan puncak lain atau lembah dengan lembah lain, kita ingin melihat garis tidak terputus oleh lilin di antara kedua titik tersebut. Ambil contoh di bawah.
We want to draw a line connecting either two (or more) swing lows or two (or more) swing highs. For those unfamiliar with the term swing highs/lows, we simply mean the peaks and valleys created with zig zagging prices. Once we connect peaks with other peaks or valleys with other valleys, we want to see the line not being broken by any candle between those two points. Take the examples below.

Belajar Forex: Lukis Garis Trend Tidak Terputus
Learn Forex: Draw Unbroken Trendlines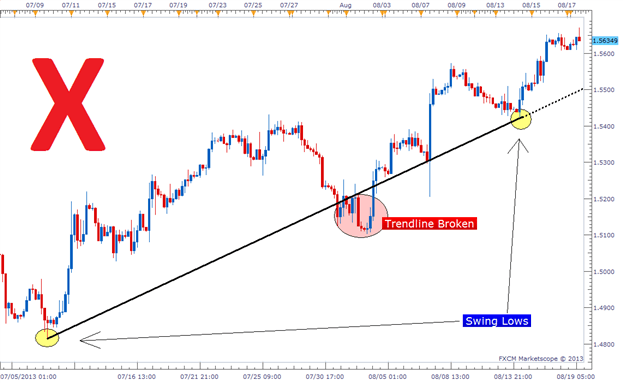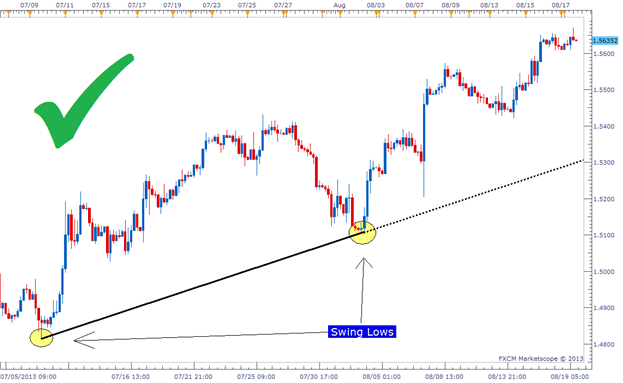 Pada gambar pertama, anda akan dapati bahawa kita berjaya melukis garis yang menghubungkan dua hayunan rendah. Tetapi, di antara kedua-dua titik tersebut, harga menembus garis yang telah kami buat. Ini membatalkan garis arah aliran.
In the first image, you will find that we successfully drew a line connecting two swing lows. But, between those two points, the price broke through the line that we drew. This invalidates the trendline.
Apa yang kita mahukan adalah apa yang kita lihat pada gambar kedua, dua ayunan rendah dihubungkan bersama oleh garis yang tidak terputus oleh harga. Ini adalah garis arah aliran sah yang siap untuk diproyeksikan ke masa depan.
What we want is what we see in the second image, two swing lows connected together by a line unbroken by price. This is a valid trendline that is ready to be projected out into the future.
Lain kali harga mendekati garis arah aliran ini, kami ingin mencari kenaikan. Cara yang mudah untuk berdagang jenis penyediaan ini adalah dengan menggunakan pesanan Masuk. Pesanan kemasukan dapat diatur untuk membuat anda memasuki perdagangan dengan harga tertentu.
Next time price gets near this trendline, we will want to look for a bounce. A convenient way of trading this type of setup is using Entry orders. Entry orders can be set to get you into a trade at a specific price.
Saya ingin menetapkan pesanan Entry saya beberapa pip di atas trendline sokongan atau beberapa pip di bawah garis trend resistance. Dengan cara itu jika harga bertindak balas sebelum sampai ke garis tren, saya masih berpeluang memasuki perdagangan. Anda harus ingat bahawa jika terdapat banyak pedagang yang melihat harga yang sama untuk bertindak sebagai sokongan / rintangan, ada kemungkinan pesanan akan disusun di sekitar tahap ini. Sekiranya terdapat cukup pesanan yang menjaga agar harga tidak sampai ke garis trend, harga mungkin tidak dapat Anda pesan jika ia ditempatkan secara langsung di atasnya.
I like to set my Entry orders several pips above a support trendlineor several pips below a resistance trendline. That way if the price reacts before getting to the trendline, I still have a chance at getting into a trade. You have to remember that if there are many traders looking at the same price to act as support/resistance, there is a chance that orders will be stacked around these levels. If there are enough orders keeping the price from getting to the trendline, the price might not get to you order if it's placed directly on it.
Petua # 2 – Semakin Banyak Titik Penyambungan, Semakin Baik
Tip #2 – The More Connecting Points, the Better
Anda mungkin menyedari bahawa saya telah merujuk dua atau lebih tinggi / rendah yang membentuk garis arah aliran. Sebab yang saya sebutkan "atau lebih" adalah kerana garis aliran dapat terus relevan hingga ke masa depan dan dapat diulang beberapa kali. Sebagai peraturan umum, semakin sering garis tren dipukul dan dipatuhi dengan lantunan, semakin penting pasaran mempercayainya. Bagaimanapun, seperti trend, garis trend tidak dapat bertahan selamanya. Oleh itu, setelah banyak pantulan, seseorang harus menjangkakan bahawa akhirnya akan berlaku jeda.
You've probably noticed that I have referenced two or more highs/lows make up a trendline. The reason I mention "or more" is because trendlines can continue to be relevant far out into the future and can be bounced off of several times. As a general rule of thumb, the more times a trendline has been hit and respected with a bounce, the more important the market believes that it is. Like anything, however, trendlines cannot last forever. So after a multitude of bounces, one has to expect a break to eventually occur.
Sebab pertama ini benar adalah bahawa anda dapat menarik garis yang menghubungkan dua titik pada carta. Hanya kerana terdapat dua ketinggian yang berbeza dalam 50 bar terakhir dan anda menarik garis di antara keduanya tidak bermaksud garis itu adalah garis arah aliran yang sah. Apa yang anda mahukan adalah garis arah yang berpotensi.
The first reason this is true is that you can draw a line connecting any two points on a chart. Just because there were two distinct highs in the last 50 bars and you drew a line between them doesn't actually mean the line is a valid trendline. What you would have is a potential trendline.
Untuk benar-benar mengesahkan garis arah aliran, anda perlu melihat harganya benar-benar bereaksi dari garis yang diproyeksikan dari garis arah yang ditarik berdasarkan dua titik sebelumnya. Pada asasnya, tinggi / rendah ketiga diperlukan untuk benar-benar memantapkan garis arah aliran. Setelah anda memilikinya, anda boleh merasa lebih senang mencari peluang untuk mengeksploitasi pasaran apabila harga kembali ke arah aliran. Walaupun mempunyai ketiga / tinggi ketiga disyorkan sebelum mencari perdagangan, itu tidak diperlukan. Bertujuan untuk memasukkan perkara # 3 di bawah boleh dilakukan dengan baik.
To truly validate a trendline, you need to see the price actually react from a line projected from a trendline drawn based off of two prior points. Essentially, a third high/low is needed to truly solidify a trendline. Once you have this, you can then feel better about looking for opportunities to exploit the market when price reaches the trendline again. While having a third high/low is recommended before looking for a trade, it is not required. Aiming for an entry on point #3 below could work out just fine.
Learn Forex: Validate Trendlines
Setiap kali anda melihat kenaikan harga yang sama, semakin besar kemungkinan orang lain juga menontonnya dan memainkan permainan yang sama seperti anda. Ini dapat membantu anda mendapatkan beberapa entri yang baik berturut-turut, tetapi ingat garis trend tidak akan kekal selamanya. Oleh itu, anda ingin memastikan anda menetapkan kerugian berhenti yang tepat untuk mengeluarkan anda dengan cepat sekiranya garis sokongan / rintangan akhirnya gagal.
Each time you see the price bounce off the same line, the more likely it is that others are watching it too and are playing the same game you are. This could help you get several good entries in a row, but remember trendlines won't last forever. So you want to make sure you set proper stop losses to get you out quickly if the support/resistance trendline eventually fails.
Petua # 3 – Beli Garis Trend Bullish, Jual Garis Trend Bearish
Tip #3 – Buy Bullish Trendlines, Sell Bearish Trendlines
Trendnya adalah rakan anda! Peraturan yang teguh ini juga berlaku untuk trendline perdagangan. Bagi pedagang yang berpengalaman, ini pada dasarnya bermaksud kita hanya perlu membeli di garis sokongan kenaikkan harga dan menjual pada garis penurunan harga. Bagi peniaga yang tidak suka menggunakan jargon, biarkan gambar berikut di bawah menerangkan perkara ini kepada anda.
The trend is your friend! This steadfast rule also applies to trading trendlines. For experienced traders, this basically means we should only look to buy at bullish support lines and sell at bearish resistance lines. For traders not into trading jargon, let the following images below explain this to you.
Learn Forex: Buying Bullish Support Trendlines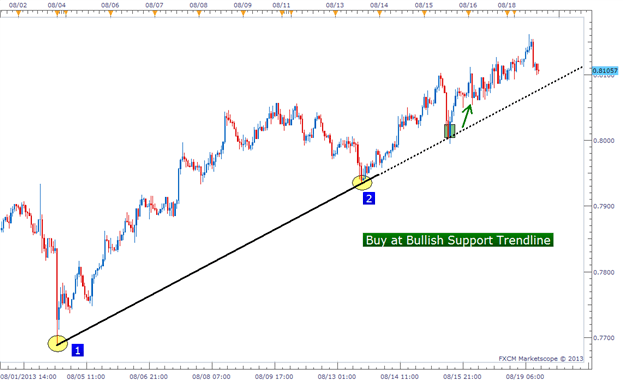 Garis arah aliran miring ke atas (bullish) bermaksud harganya telah meningkat, jadi kami ingin mencari peluang membeli. Peluang membeli berlaku apabila harga turun dan mendekati garis arah aliran yang telah menyebabkan kenaikan sebelumnya.
An upward slanting (bullish) trendline means the price has been trending up, so we want to look for buying opportunities. Buying opportunities occur when the price drops down and comes close to the trendline that has caused upward bounces before.
Belajar Forex: Menjual Trendlines Resistance Bearish
Learn Forex: Selling Bearish Resistance Trendlines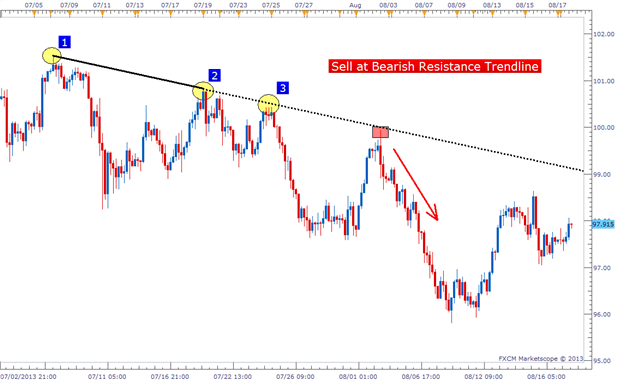 Apabila ketinggian secara konsisten turun dalam corak yang konsisten, terdapat garis arah aliran rintangan menurun.
Garis arah aliran miring ke bawah (bearish) bermaksud harganya telah menurun, jadi kami ingin mencari peluang penjualan. Peluang penjualan berlaku ketika harga naik dan mendekati garis arah aliran yang telah menyebabkan penurunan sebelumnya.
A downward slanting (bearish) trendline means the price has been trending down, so we want to look for selling opportunities.Selling opportunities occur when the price moves up and comes close to the trendline that has caused downward bounces before.
Berdagang hanya mengikut arah aliran dengan baik mari kita memanfaatkan potensi trendline yang melambung dengan cekap mungkin. Dan walaupun mereka tidak akan selalu memberi kita perdagangan yang menang, perdagangan yang menjadi pemenang harus memberi kita lebih banyak peluang daripada yang kita berusaha untuk meletakkan perdagangan dengan trend.
Trading only in the direction of the trend well let us exploit potential trendline bounces as efficiently as possible. And while they won't always give us winning trades, the trades that are winners should give us more pips than had we been attempting to place trades against the trend.
(Catatan: Ada juga potensi untuk menukar jeda trend daripada bouncing, tetapi itu adalah teknik yang lebih maju. Ini adalah sesuatu yang akan dibahas dalam artikel mendatang.)
(Note: There is also the potential to trade a break of a trendline rather than a bounce, but that is a more advanced technique. This is something to be covered in a future article.)
Menyambung Titik
Connecting the Dots
Datang dalam bulatan penuh, garis trend adalah alat yang sangat mudah digunakan. Anda menyambungkan titik pada carta. Tetapi semoga ketiga-tiga petua di atas dapat membantu anda melukis garis aliran ke peringkat seterusnya. Pastikan garis yang anda lukis menghubungkan dua atau lebih tinggi atau dua atau lebih rendah, tetapi belum dipecahkan oleh harga antara titik tersebut. Ingatlah untuk mencari pantulan ke-3 untuk mengesahkan garis arah aliran. Juga, pastikan anda mengambil keuntungan dari berdagang dengan trend dengan mencari pembelian di pasaran bullish dan menjual di pasaran bearish.
Coming full circle, trendlines are a very simple tool to use. You are connecting dots on a chart. But hopefully the three tips above will help you take drawing trendlines to the next level. Make sure that the lines you draw are connecting two or more highs or two or more lows, but have not been broken by the price between those points. Remember to look for at a 3rd bounce to validate a trendline. Also, make sure you are taking advantage of trading with the trend by looking for buys in bullish markets and sells in bearish markets.